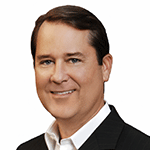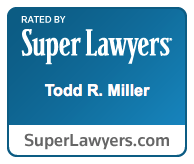 Todd Miller is a seasoned intellectual property attorney with extensive litigation and prosecution experience. He has tried and won matters before jurors, judges, and arbitrators.
As a registered patent attorney, Todd has prosecuted hundreds of patent and trademark applications before the U.S. Patent and Trademark Office and other agencies worldwide. He counsels clients with the development, maintenance, and policing of their patent and trademark portfolios.
Todd is a former partner at Jones Day and co-chair of that firm's Emerging Technologies practice. He is a frequent speaker and author.
With more than 20 articles, Todd has been published in China, Germany, Japan, the U.K., and the U.S. under the auspices of the U.S. Patent and Trademark Office, the American Intellectual Property Law Association, and the Max Planck Institute.
Todd has continuously been selected to the California Super Lawyers® list, an honor given to the top 5% of practicing attorneys in California.
Read some of Todd's Insights Here.
To succeed, a business must have a well understood, overall strategy as well as strategies for particular aspects of the business. Examples of such strategies include intellectual property strategy, product development strategy, and market strategy.
In the context of intellectual property strategy, businesses far too often invest time and money in a hodge-podge fashion. As a result, the return on their investment can be less than optimal. A proper intellectual property strategy maximizes the potential return.
A first stage in devising a proper intellectual property strategy includes a comprehensive audit of the business' existing intellectual property. A second stage includes understanding the competition and their intellectual property. Once this information has been gathered, risks and opportunities can be analyzed and a proper strategy can be decided upon. This strategy should include implementation of a long-term mechanism for capturing and protecting intellectual property going forward.
The intellectual property audit and understanding of competitor's intellectual property also informs the product development strategy. This information is essential to help ensure that any new product is protected and also that the new product does not infringe on someone else's intellectual property.
Finally, a market strategy will be driven at least in part by the product development strategy. In addition, intellectual property in the form of trademarks and goodwill should be part of the market strategy.
Vested is well positioned to help you with these essential aspects of your overall business strategy.
Admitted
California; Maryland; Central, Southern, and Northern Districts of California; District of Colorado; Northern District of Ohio, Eastern District of Texas; United States Court of Appeals for the Federal Circuit; registered to practice before the United States Patent and Trademark Office
Education
Todd has a Master of Laws in Intellectual Property Law with highest honors from the The George Washington University.  He has also earned a Juris Doctor from Thomas M. Cooley Law School, where he was on Law Review, and a Bachelor of Science degree in Materials Science Engineering from the University of Florida.
Representative Legal Matters
Kyocera International, Inc. successfully has patent infringement lawsuit dismissed against Aperture Net LLC

Delsey Luggage, Inc. successfully defeats patent infringment allegations by Landmark Technology A, LLC

Bird Rides, Inc. establishes and enforces a global trademark portfolio and successfully defends its rights

G Stage Inc. successfully has patent infringement lawsuit dismissed against Landmark Technology, LLC

Walmart, Amazon.com, Toys "R" Us, DNA Response, Jay Franco & Sons, and Jay@Play International HK Ltd. successfully have patent infringement lawsuit dismissed

Bluelounge Pte. Ltd. establishes and enforces a global intellectual property portfolio and successfully defends its rights
ClariTrac Inc. develops an ultrasound imaging system to improve breast cancer diagnosis
California Polytechnic State University develops and monetizes its intellectual property portfolio
Dr. William Stubbeman establishes intellectual property portfolio for treatment systems and methods capable of treating neurologic or psychiatric disorders, including tinnitus
West Coast Trends enforces its patent rights against Ogio International
Comco Inc. develops its intellectual property portfolio directed to abrasive blasting technology
No. 9 Software develops an intellectual property portfolio directed to a novel retail ecosystem designed to improve fitting, sales, rentals, and shop management
Early X Foundation works with national laboratories, universities, and corporations to commercialize intellectual property
Capital Security Systems, Inc. enforces global patent portfolio directed to envelope-free ATMs
Pro Tech Monitoring prevails against Satellite Tracking of People in patent actions involving GPS tracking devices
DIRECTV prevails on remand against Finisar Corp. in a patent action on summary judgment, saving DIRECTV over $100M
Chevron and Unocal successfully resolve antitrust class actions regarding reformulated gasoline
Gennum prevails in patent trial over infringement claims concerning two patents related to video synchronization separators, with the Federal Circuit twice holding in favor of Gennum
Children's Hospital Los Angeles wins $2M in overcharges on computer systems outsourcing contract as a counterclaim to a $9M initial strike lost by CSC
SAP successfully defends against patent infringement claim filed by DSC, an Acacia entity
Wilden Pump settles favorably in patent infringement case relating to diaphragm pumps
IBM settles favorably in patent case against Amazon.com involving data storage
IBM settles favorably in patent case against Amazon.com involving electronic ordering systems
3D Systems resolves patent over solid free-form fabrication with favorable settlement
Motorola and Freescale resolve suit with STMicroelectronics over 12 semiconductor patents
RIM successfully pursues trade secret misappropriation action over wireless PDA
SanDisk successfully defends against patent charges involving integrated circuit chip
Texas Instruments successfully defends against patents claims involving processor technology
PSC establishes patent portfolio for laser scanners and accessories
Universal Studios establishes portfolio for its theme park, including rides and complex robots
Publications
Cleantech Innovators Should be Aware of Certain Global Intellectual Property Issues, Intellectual Property & Technology Law Journal, May 2010
知识产权和清洁技术 — 关键问题和需要做的决定 (Intellectual Property Rights And Clean Technology – Critical Issues And Decisions To Be Made), on Qianlong.com, March 18, 2010
Protecting Patent Holders of Clean Technology, Los Angeles Daily Journal, 12, 2010 (Read Here | PDF)
Handotai Gyokai ni okeru Tokkyo-sosho oyobi Tokkyo-shinsa no Doko (The Trends of Patent Litigation and Protection in the Semiconductor Industry), Legal Updates US, Business Law Journal, July 2008
Patent Trends in the Cleantech Industry, Intellectual Property & Technology Law Journal, July 2008 (Read Here | PDF)
Change of Conduct, Patent World, April 2008
Patent Litigation and Prosecution Trends in the Semiconductor Industry, IP Perspectives, Fall/Winter 2007 (Read Here | PDF)
Patent Litigation has Doubled and Will Double Again Over the Next Decade, Electronic Design, November 2007
Expect Twofold Increase in Patent Litigation, Electronic Engineering Times, 2007 (Read Here)
Patent Litigation on the Rise in Semiconductor Sector, Electronic Engineering Times, 2007 (Read Here)
Accelerated Patent Examination for Nanotechnology and Emerging Technologies, IP Perspectives, Spring/Summer 2007 (Read Here | PDF)
Risks and Rewards of Accelerated Examination: New Procedures at the USPTO, Small Times,smalltimes.com, February 2007 (Read Here)
New Procedures at the USPTO: The Risks and Rewards of Accelerated Patent Examination within 12 Months, Intellectual Property & Technology Law Journal, January 2007
Patented Compounds Inherently Coproduced as Trace Impurities: Issues of Inherent Anticipation and Literal Infringement, 32 AIPLA Q.J. 425 (2004)
The "Doctrine of Prosecution Disclaimer" in Construing Patent Claims, 86 Pat. & Trademark Off. Soc'y 931 (2004)
Inherent Anticipation: The Downfall of Recognition, LAIPLA Bulletin, Issue 18, April 2004
What is a Markman Hearing? LAIPLA Bulletin, Issue 16, December/January 2004
Practical Tips on Enforcing and Defending Patents, 75 Pat. & Trademark Off. Soc'y 791 (2003)
The Same Effect: United States Provisional Patent Applications and Paris Convention Priority Rights, 37 L. TECH. 1; 78 J. Pat. & Trademark Off. Soc'y 734 (1996)
Inventions Made in U.S.A.: Foreign "Equality" Under Applicable International Treaties, 587 IIC 27 (1996)
The International Suture: A Comparative Approach to Patenting Methods of Medical Treatment, 78 Pat. & Trademark Off. Soc'y 443 (1996)
The Public's Right to Know? Or a Red-Tape Nightmare?: Demanding Best Mode Disclosure to be Updated, 35 L. & Tech. 261 (1995)
Motivation and Set-Size: In re Bell Provides a Link Between Chemical and Biochemical Patent Claims, 2 University of Baltimore Intellectual Property Law Journal 89 (1993)
Speaking Engagements & Press
2022 Super Lawyers®
2021 Super Lawyers®
2020 Super Lawyers®
2019 Super Lawyers®
2018 Super Lawyers®
2017 Super Lawyers®
2016 Super Lawyers®
2015 Super Lawyers®
2014 Super Lawyers®
2013

 

Super Lawyers®
Building Better

 

Intellectual Property,

 

Public Counsel, April 13, 2019, Los Angeles, California
Protecting Your Business Assets: Intellectual Property, PACE Los Angeles Business Development Center, March 13, 2019, Los Angeles, California
Protecting Your Business Assets: Intellectual Property, PACE Los Angeles Business Development Center, December 14, 2018, Los Angeles, California
Protecting Your Business Assets: Intellectual Property, PACE Los Angeles Business Development Center, September 11, 2018, Los Angeles, California
Intellectual Property 101,

 

California Polytechnic State University, October 20, 2016, San Luis Obispo, California
Practical Intellectual Property Guidance for Entrepreneurs, Art Center College of Design, June 7, 2016, Pasadena, California
Practical Intellectual Property Guidance and Beyond, California Polytechnic State University, May 11, 2016, San Luis Obispo, California
Practical Intellectual Property Guidance for Entrepreneurs, California Polytechnic State University, May 11, 2016, San Luis Obispo, California
Practical Intellectual Property Guidance and

 

Beyond, March 17, 2016, Make in LA, Chatsworth, California
Practical Intellectual Property Guidance for Entrepreneurs, Pepperdine University, November 14, 2015, Encino, California
Intellectual Property 101 and Beyond, October 21, 2015, San Diego County Bar Association, San Diego, California
Practical Intellectual Property Guidance for Entrepreneurs, USC, January 27, 2014, Los Angeles, California
Bluelounge Wins Dismissal of Lawsuit, May 1, 2015 (Read Here)
Practical IP Tips for the Entrepreneur, August 12, 2015, Los Angeles, California
Bluelounge Pte. Ltd., Maker of the MiniDock® Product, Resolves Patent Infringement Suit Against Blingberry, LLC, June 24, 2013
Practical Intellectual Property Guidance for Entrepreneurs, USC, January 28, 2013, Los Angeles, California
Protecting Your Invention, Inventors' Mastermind SoCal, August 19, 2012
Practical Intellectual Property Guidance for Executives and Entrepreneurs, Bloomberg BNA Webinar, February 16, 2012
Practical Intellectual Property Guidance for Entrepreneurs, USC, January 23, 2012, Los Angeles, California
Practical IP Tips for Entrepreneurs by Todd Miller, January 15, 2012, at http://www.maxmednik.com/1/post/2012/01/practical-ip-tips-for-entrepreneurs-by-todd-miller.html
Practical IP Tips for Entrepreneurs, UCLA, January 11, 2012, Los Angeles, California
Practical IP Tips for Entrepreneurs, Pepperdine University, November 3, 2011, Malibu, California
Patent and Intellectual Properties: Your Questions, Answered; PLUS the Supreme Court decision on Bilski, July 6, 2010, at http://thedirective.blogspot.com/2010/07/patent-and-intellectual-properties-your.html
An Interview with Todd R. Miller, IP Trial Attorney, Part I: The Ins and Outs of Filing for Patents, June 21, 2010 (Read Here)
An Interview with Todd R. Miller, Part II: Patent Disputes and Patent Litigation, June 23, 2010 (Read Here)
Practical Tips for Successful U.S. Patent Litigation and Prosecution and Practical Tips for Successful Patent Prosecution, March 2010, Seoul, Beijing, Tokyo
Existing Laws, Treaties Apply in Clean Tech Patent Actions, The Bureau of National Affairs, by Joyce E. Cutler, January 2010
International IP Protection: Technology for Everyone?, 2010 Symposium, The Clean Technology Revolution: Developing Solutions for Tomorrow's Legal Challenges, January, 29, 2010, San Jose, California
Renewable Energy and Sustainability: Winners, Losers and Legal Issues Confronting Both, Jones Day MCLE University, January 28, 2010, Los Angeles, California
Renewable Energy and Sustainability: Winners, Losers and Legal Issues Confronting Both, Jones Day MCLE University, January 13, 2010, San Francisco, California
Patent Notice Letters – Sending and Receiving, MCLE University, January 29, 2009, Los Angeles, California
Essentials of Patent and Other Intellectual Property, November 10, 2008; September 29, 2008; July 22, 2008; May 13, 2008, San Bernardino, California
Patent Trends in Clean Energy Technology, February 6, 2008, Palm Springs, California
IP Investability: What Do VCs, Companies, and Universities Need to Know about the New and Proposed Patent Procedures?, January 22-23, 2007, Palm Springs, California

Todd Miller on Inherent Anticipation in AIPLA Q.J.

, IPBiz, March 2005

Due Diligence in Intellectual Property Transactions, UCLA, May 2004, Los Angeles, California
Patent Claim Drafting, Patent Resources Institute, 1999, Los Angeles, California
IP Overview and Patent Drafting 101; 1999, 2000, 2001, Los Angeles, California