Below you will some information regarding the photo images used on this site, including copyright info where required.
 Kittyhawk Flyer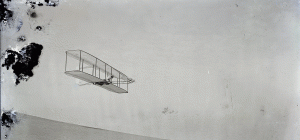 From: Library of Congress; http://hdl.loc.gov/loc.pnp/ppprs.00602. Rights Advisory: No known restrictions. Call Number: LC-W86- 11 [P&P]. Repository: Library of Congress Prints and Photographs Division Washington, D.C. 20540 USA. http://www.loc.gov/pictures/item/2001696265/
 Space Shuttle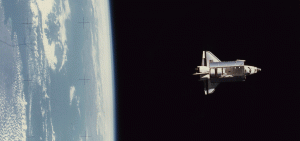 This media file is widely available online as downloadable free HD wallpaper via, among others, the Pics-About-Space.com website, which notes the source as Sampaikini. No known photographer or illustrator attribution. No known restrictions.
Fleming Valve Vacuum Tubes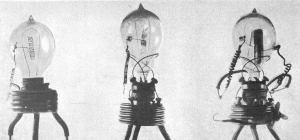 This media file is in the public domain in the United States. This applies to U.S. works where the copyright has expired, often because its first publication occurred prior to January 1, 1923. See this page for further explanation. From Wikimedia Commons, the free media repository: http://commons.wikimedia.org/wiki/File:Fleming_valves.jpg
Silicon Chip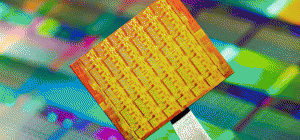 Photo: Intel Corporation, made publicly available through Press Room: http://download.intel.com/pressroom/images/rockcreek/scc-h-wafer.jpg
Crooke's Tube X-Ray Experiment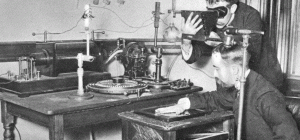 Public domain – published in USA before 1923. Downloaded 2007-12-23 from William J. Morton and Edwin W. Hammer (1896) The X-ray, or Photography of the Invisible and its value in Surgery, American Technical Book Co., New York, fig. 54 on Google Books. On Wikipedia: http://commons.wikimedia.org/wiki/File:Crookes_tube_xray_experiment.jpg
CT Scan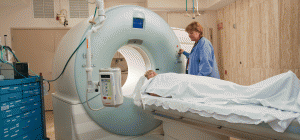 Public domain. Features Siemens technology. Sourced from: http://healthinformatics.wikispaces.com/CT+Scan
Teletype Machine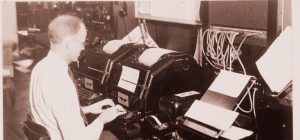 Public Domain courtesy of NOAA: http://www.photolib.noaa.gov/htmls/wea01816.htm; Image ID: wea01816, NOAA's National Weather Service (NWS) Collection. Photo Date: Ca. 1947; Avaialable at: http://www.photolib.noaa.gov/bigs/wea01816.jpg
Man Using Smartphone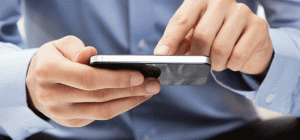 Item number: 136169892 Collection: iStockRelease info: No release required. Available at: http://www.thinkstockphotos.co.uk/image/stock-photo-young-adult-using-a-smart-phone/136169892
Explorer 17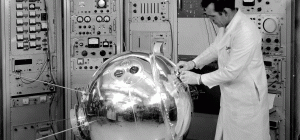 By NASA (Great Images in NASA Description) [Public domain], via Wikimedia Commons. Available at: http://upload.wikimedia.org/wikipedia/commons/7/7f/Explorer_17.jpg
Cassini-Huygens Orbiter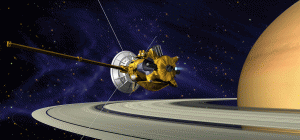 This image or video was catalogued by Jet Propulsion Laboratory of the United States National Aeronautics and Space Administration (NASA) under Photo ID: PIA03883. http://photojournal.jpl.nasa.gov/catalog/PIA03883. Original Caption Released with Image: This is an artists concept of Cassini during the Saturn Orbit Insertion (SOI) maneuver, just after the main engine has begun firing. The spacecraft is moving out of the plane of the page and to the right (firing to reduce its spacecraft velocity with respect to Saturn) and has just crossed the ring plane.