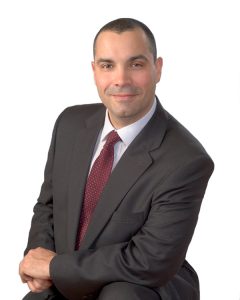 Counselor
614.207.2441
jhyre@vestedlaw.com
John Hyre is an exceptional tax attorney with 20 years of experience. Prior to venturing into private practice, John worked for a Fortune 500 company as Tax Counsel and for two of the "Big Three" accounting firms as a Tax Consultant. John has been involved in tax planning for start-ups, large corporate and partnership/LLC transactions, international transactions, REIT's, and executive compensation arrangements. John also has extensive experience with the taxation of real estate and self-directed IRA's and 401(k)'s. John has successfully defended such clients in IRS audits and Tax Court.
John frequently speaks on the topics of taxation of real estate investors and the taxation of self-directed IRA's & 401(k)'s throughout the United States. John also invests in rental real estate. John is licensed in Ohio. Given the nationwide applicability of federal income taxation, John's clients are from all areas of the United States as well as from overseas. John resides in Columbus, Ohio.
Read some of John's Insights Here.
Representative Legal Matters
Business Structuring
Choice of entity and structuring to maximize asset protection and minimize taxes
Advising on proper accounting for expenses, revenues, etc.
Minimizing both domestic and foreign taxation of income investment (e.g. – Canadians investing in US businesses)
Structuring deferred compensation models (e.g. – phantom stock, stock options, carried interests)
Advising on complex US partnership taxation rules and structuring operating agreements to comply with the same
Structuring tax-favorable sales of business and assets
Drafting tax provisions for private offering documents
Self-Directed IRA's and 401(k)'s
Planning for Self-Directed IRAs ("SDIRA's"), Health Savings Accounts, Coverdale Education Savings Accounts, and 401(k)s
Advising as to the creation, structuring and maintenance of "Checkbook" LLC's (aka IRA-Owned LLC's)
Screening proposed/reviewing completed purchases, sales and other SDIRA transactions for fatal prohibited transactions (Internal Revenue Code Section 4975)
Planning for/around UBIT (Unrelated Business Income Tax aka "IRA Tax")
Reviewing strategies for unconventional and fast-growth IRA investments
Reviewing proposed joint ventures and other IRA investment options
Drafting tax language for IRA-investors in private offering agreements
Real Estate Investment
Planning for and maximizing tax deductions
Consulting as to choice of entity for real estate investments
Planning for conversion of ordinary income into capital gains (e.g. – carried interests)
Consulting as to minimizing the tax impact of harsh IRS relating to discounted notes
Maximizing depreciation deductions on investment property (e.g. – so-called component depreciation)
Planning for or around "Dealer" issues, including legally reducing social security taxes on income from the sale of "inventory"
Planning for creative or unusual transactions such as: Subject-To's (Informal Assignments), Lease Options (including sandwich & cooperative), Assignments, Tax Liens, Partial Notes, Participating Notes, Sales of mobile homes on owner financing, etc.
Advising on incoming foreign investment
"Controversy" Work
Audit representation nationwide
Appealing audits if & when necessary
Litigating failed Appeals in Tax Court
Negotiating with the IRS in re collections and payment plans
Stopping or contesting IRS collections when appropriate
Negotiating a reduction in tax debt (i.e. – Offer in Compromise) when possible
Publications
The Real Estate Investor's KISS Guide to Book Keeping
The Real Estate Investor's KISS Guide to Entities
The Real Estate Investor's KISS Guide to SDIRA's
Multiple articles, including:

Choice of Entities 101
Daddy's Little Tax Deduction
Mitt Romney Ballooned His IRA to $100 Million
How Service Providers Can Destroy IRA's
Speaking Engagements
Presenter and Promotor of Two Day Workshop for Self-Directed IRA Workshop ("IRA Meets the NRA" – so named because the event was held at a gun range and involved tax-deductible shooting/entertainment following the class)
Main presenter at dozens of real estate investor associations and conferences ("REIA's"), including:

Ohio Real Estate Investors Association
Chicago Creative Investors Association
Real Estate Investors Network (Nashville)
Realty Investment Club of Houston
Bay Area Wealth Builders (San Francisco)
Massachusetts Real Estate Investors Association
MN REIA (Twin Cities)
National REIA Cruise
And many more

Presented on "Prohibited Transaction and UBIT in your Self-Directed IRA" at Equity Trust Company's annual conference, the largest such event for SDIRA investors
Presented on taxation of notes at the annual Noteworthy (buyers, creators and sellers of commercial paper) conference
Multiple presentations on taxation of real estate for National REIA